Fetish Men San Diego is a volunteer run organization, with each member adding to the total energy and experiences we share. Some of our volunteers do just a little more to produce events, and keep the behind-the-scenes work going.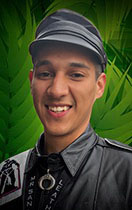 Doriam, Mr. San Diego Leather 2018
Title: President, Workshop and Outreach Coordinator, 2016-Present
Member Since: Fall 2016
Doriam has been involved with Fetish Men San Diego since Fall of 2016; he took over the role of Acting President in December of the same year and began rebuilding the club. Doriam has been involved in the greater San Diego Kink and Fetish community since September 2015 and found Leather in March of 2017; since then, he has begun carving his own Leather Path which led him in March 2018 to run for, and win, the title of Mr. San Diego Leather 2018!
As a member of the Leadership Team, Doriam's primary role is in scheduling events, producing workshops and fundraisers, and community outreach. As a Leatherman, his goal is to learn, document, and share history with his Brothers and Sisters in Leather. He has served on the boards for Club X and House of Black, and works as a Bartender at the San Diego Eagle, and professionally as a Massage Therapist.
[Photo]
Scott Smith
Title: Acting Vice-President
Member Since: Forever
Scott! I need a bio for you :)
[Photo]
Jody Mitchell
Title: Social Media Coordinator
Member Since: March 2017
JODY! I need a Bio for you as well
[Photo]
[PHOTO OF CLUBS]
In addition to our leadership team, Fetish Men San Diego has a pool of wonderful instructors and hosts for our workshops and discussions including, but not limited to, the following:
* Jerry M.
* Officer Wes
* Nathan K., Mr. San Diego Leather 2017
* Papa Tony Lindsey
* Justin W.
* Sir Francis
* Jeremy W.
* Dustin W.
---
Slide show from past events: